*
The medicinal leeches - Hirudo medicinalis is anelideous that bites mammiferous.
Many maid's blood in the egypt civilizations egypcian, greek and roman.
Last years the leech have its space being applied in the treatment of veined congestion in microsurgery cutaneous flap (Photo 1)
.
Photo 1
Click in the picture to enlarge it!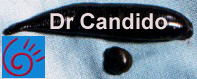 Comparison among
the dimensions
of two leeches:
before and after the "meal".
It is indicated in the treatment of infection and superficial wounds.
The treatment with the use of leech is contraindicated in extensive injuries, therefore it has the evident risk of "lost" them in the stream bed of the lesion.
The application procedure demands uninterrupted visual monitorization.
*Bibliographycal Reference:
CANDIDO LC: Nova abordagem no tratamento de feridas.
São Paulo: Editora SENAC-SP, 2001.
SEE another
COADJUVANT TREATMENT
It Consults the Feridologo's
Book!!! NEW APROACH IN THE TREATMENT OF WOUNDS
Luiz Claudio Candido, MD. Publishing SENAC-SP,
São Paulo-Brazil, 2001.
Consult our "FERIDOTECA"
DRESSING and COVERINGS